Inside a Beachy Apartment on Brooklyn's Waterfront
For many people, summertime means heading out to soak up some rays in the Hamptons, taking a dip at the nearest idyllic borough beach, or hanging out at a backyard BBQ. But theater producer Kate Russell and her partner Colin Moneymaker share a year-round beach bungalow — which just happens to be in Brooklyn's Greenpoint neighborhood. Car horns and street chatter can't be heard form this garden-facing abode, so there's no disruption of the home's island-getaway vibe.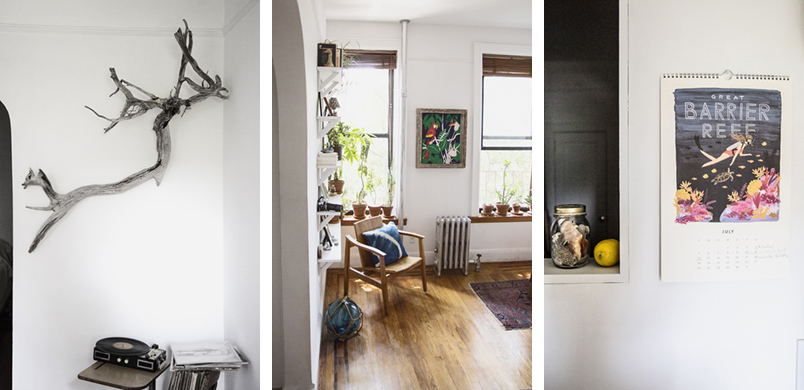 The couple found the main room's mounted drift wood on a trip to Maine and affixed it to the wall to remind them of their travels. It acts as both keepsake and one-of-a-kind sculpture. Below it, a small antique school desk plays DJ, holding a modest but well-played record collection. Tucked inside are a few favorite titles and a seashell, a memento of a day by the water.

Kate and Colin's combined design aesthetic is cool and collected. Colin works in downtown Manhattan, and Kate is a freelancer who works from her home office. A simple desk in the living room is where she's put into motion her most recent project: launching a theater company, and fundraising for its first production. Coincidentally, given Kate's seaside-inflected home decor, the company's inaugural season kicks off with an original adaptation of the classic maritime novel "Moby Dick."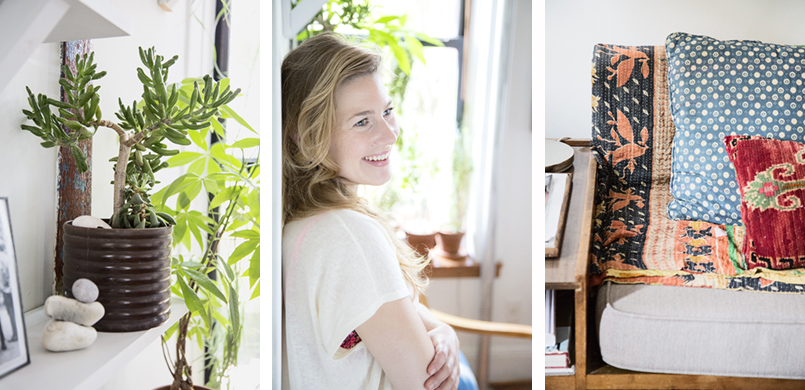 A laidback look
The Moroccan and tie-dyed pillows paired with colorfully patterned rugs against blond wood pieces and a modern couch help to communicate a relaxed style. The combined textures are thoughtfully chill, and reminiscent of overlapping beach towels on the sand.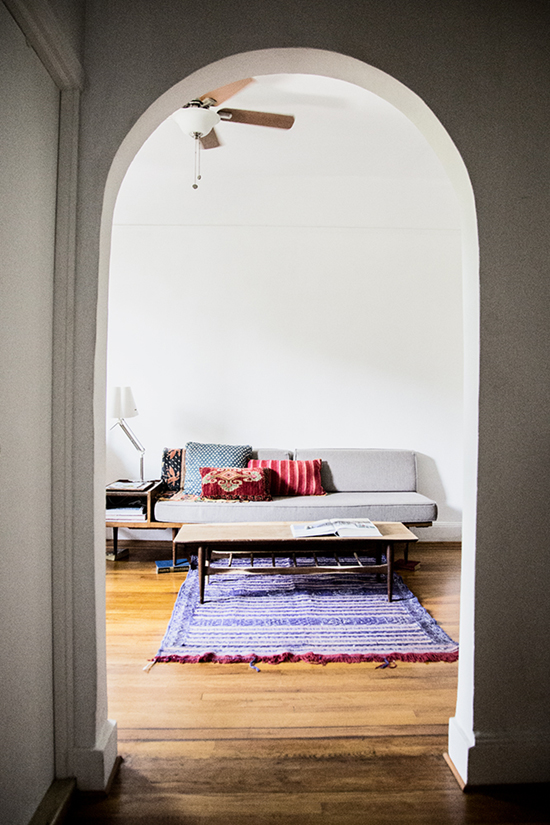 White shelves, built by Colin, hold photographs capturing time spent with family, intermingled with artifacts found along the way and quaint stacks of treasured natural elements like stones and driftwood.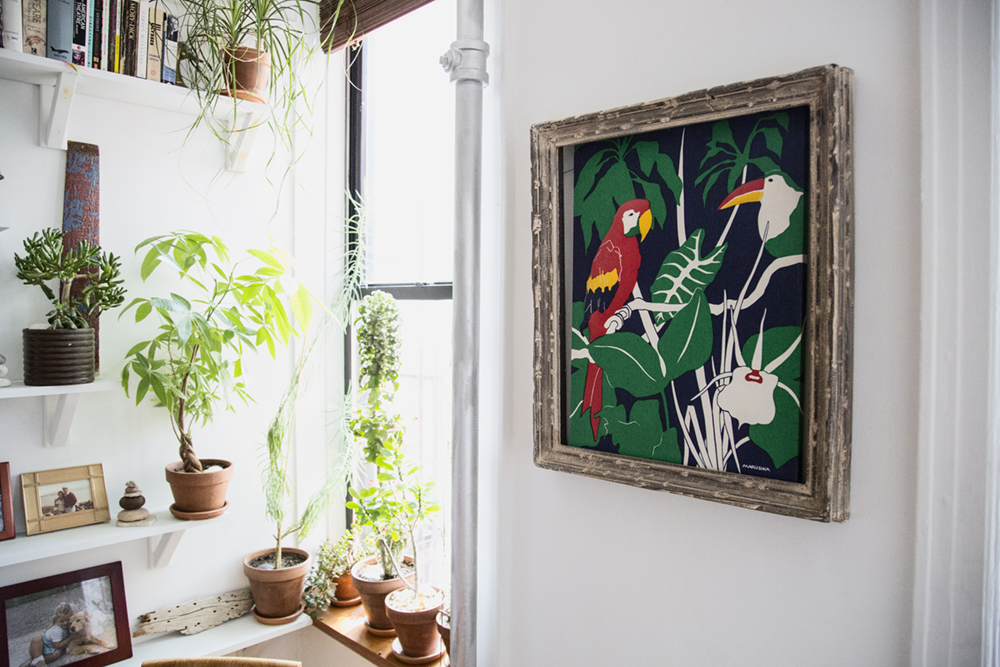 Colin takes great pride in his city garden. Plant life along all the windowsills evokes images of a beautiful reef or cliff-side bluff. Some of the couple's favorite plants are sourced at nearby Homecoming on Franklin Street, a charming cafe and lifestyle store, and a haven for the neighborhood's urban gardeners.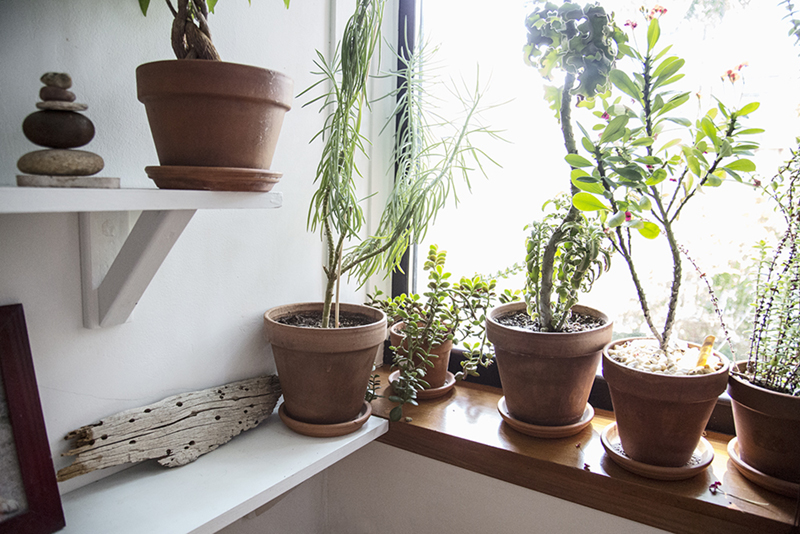 When trying to achieve this look, remember to balance color and space. It's a memorable home because it's personal, but still minimal. In the absence of clutter, there are keepsakes.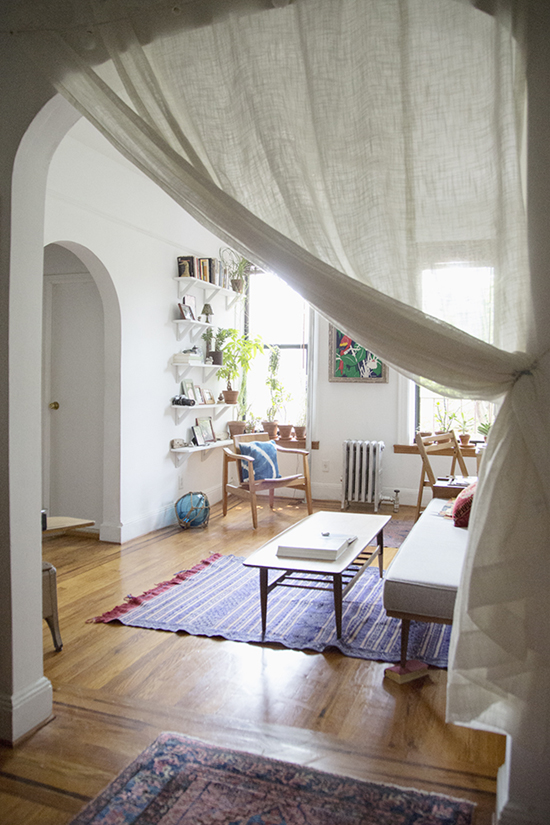 Taking a lead from nature itself, only a handful of simple pieces make the space sing. But Kate and Colin manage to bring the staycation home, and set a course to the welcoming space where they've dropped anchor.
Shot on location by Kristen Blush. Prop help by Patina Rental and styling/project management by Douglas Calhoun Events.
Related:
Powered by WPeMatico