It's a Catio, Daddio! Safe Outdoor Access for Frisky Felines
Anyone interested in feline enrichment knows how much cats love the outdoors. They also know how risky it is for cats to be free-roaming — they can be hit by cars, trapped in garages and just plain lost. Then there are the birds they kill (although windows also do major damage to bird populations).
Some of the world's most forward-thinking cat owners have devised a solution: the catio.
It's the animal-lover's answer to the man cave, a space set aside to keep our feline companions safe and happy.
Basically, catios are screened-in porches glorified with stairs, shelves, cushions and scratching posts — as well as sturdy walls, roofs and floors to keep cats in and other critters out. Catios come in all shapes and sizes and can be homemade, custom made or ordered online.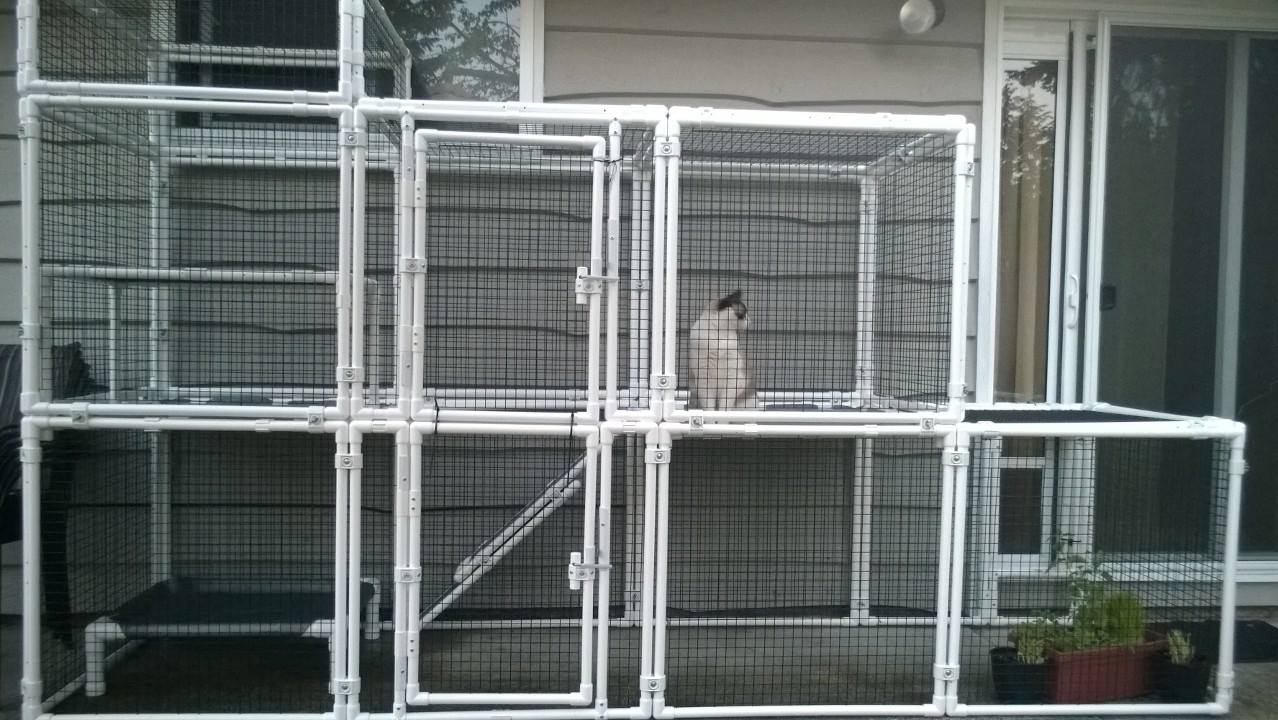 Margo in her catio (photo courtesy of Jean White)
From these enclosed perches, cats can mock-chirp at birds and squirrels all the livelong day without anyone coming to harm.
'Go on out; it's beautiful out'
Jennifer Hillman of Seattle has two catios: one built in 2001 when she moved to a new house and did not want her five cats roaming the neighborhood, and the other built six years ago where her shed once stood. They're connected by a little tunnel.
The cats tend to visit after meals, and Hillman jokes that she sometimes feels like a pestering mom — "go on out; it's beautiful out!"
She figures her catios cost about $500 each, mostly for wood and wire.
Her catios were part of a recent Catio Tour in Seattle sponsored and organized by The Humane Society of the United States, where Hillman is director of strategic advocacy and campaigns; PAWS, a Seattle-area rescue and wildlife rehabilitation center; and Catio Spaces, a Seattle company that designs and builds catios.
Cynthia Chomos, founder of Catio Spaces, built her first catio in 2013 for her orange-and-white tabby, Serena, to "experience the sights and sounds and smells and stimulation of the natural world."
Now Serena follows the sun between two catios — one in the backyard facing east, and one in a window box facing west — and Chomos designs and oversees the building of catios for other homes. They tend to measure 6-by-8 or 8-by-10 feet and cost roughly $2,500 to $5,000.
People can also buy Catio Spaces' do-it-yourself plans for $49.95, with $5 going to an animal welfare organization.
One of Chomos' most interesting projects was the building of a 26-foot catio that wrapped around a house to keep two "serial bird killers" and their two "canine cohorts" indoors. The owner — who can walk through the catio to reach the backyard — has since added a chicken to the mix, Chomos has heard.
'A vet bill is way more'
Although that sounds like the cat's meow, one catio set-up that would be hard to beat belongs to Dan Reeder, who built and bolted a three-story catio townhouse to his own house and connected it via a long tunnel to a catio large enough for Dan to join the cats in the backyard.
The retired math teacher and paper mache artist figures he spent about $3,000 on the structures, which are well-fortified with wire mesh even under the main catio floor, because "I didn't want a possum to appear in the house."
The catios were finished in time for his cat Riley to spend her last summer outdoors before she died at the age of 20.
His other two cats, Max and Eddie, continue to enjoy their outdoor time, and the catios have curbed Reeder's guilt over Max waiting for him to play. "I used to feel guilty all day," Reeder said.
Jean White of Bellevue, WA, bought her catio, which was also on the recent tour, for about $1,200 from the website Cats on Deck.
"It may sound pricey, but a vet bill is way more," said White, who lives near a bus route and in an area where there are coyotes and raccoons.
Like most catios, hers is connected to the house by cat doors — in her case, one in the bathroom window and one connected to a sliding-glass door.
"Margo, the Siamese, loves it," she said. When Jean first adopted Scout, a black-and-white tuxedo cat, she didn't realize there was a cat door in the wall and thought Margo was disappearing into a curtain.
"She was so surprised!" Then Scout figured it out, and now the cats alternate between lounging and chasing each other in a loop, day and night.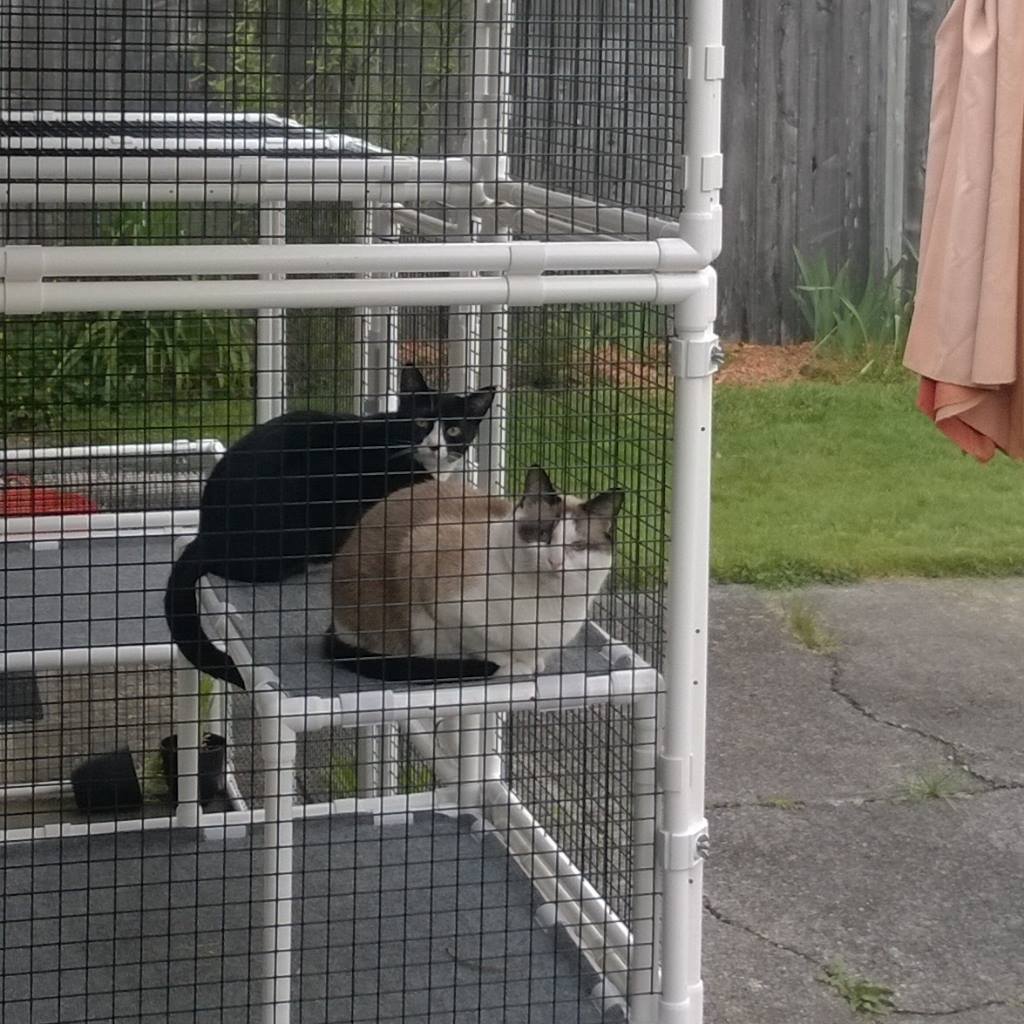 Scout and Margo (photo courtesy of Jean White)
Related:
Powered by WPeMatico