Pump Up the Glamour with a Personalized Dressing Area
Closets often get overlooked during home decorating as merely functional spaces. Creating a pretty dressing room area in your closet can turn getting ready into a special treat, and your closet into one of your favorite spots.
1. Designate a jewelry landing spot
Find a small surface in your closet — for example, on a shelf or dresser top — to create a convenient place to corral your favorite and most-worn jewels. Add a little mirror to test out your jewelry choices.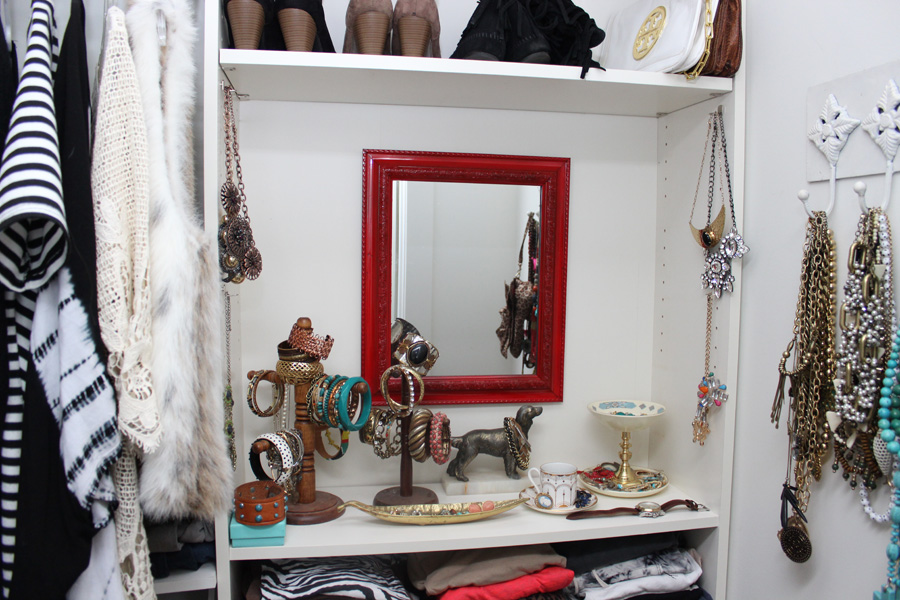 2. Put your jewelry on display
Instead of using a plain jewelry box with drawers, put your jewelry on display by bringing in a variety of bowls and dishes to hold small items. For example, saucers or plates — separated by a brass candlestick attached with Liquid Nails — make a beautiful spot to hold earrings.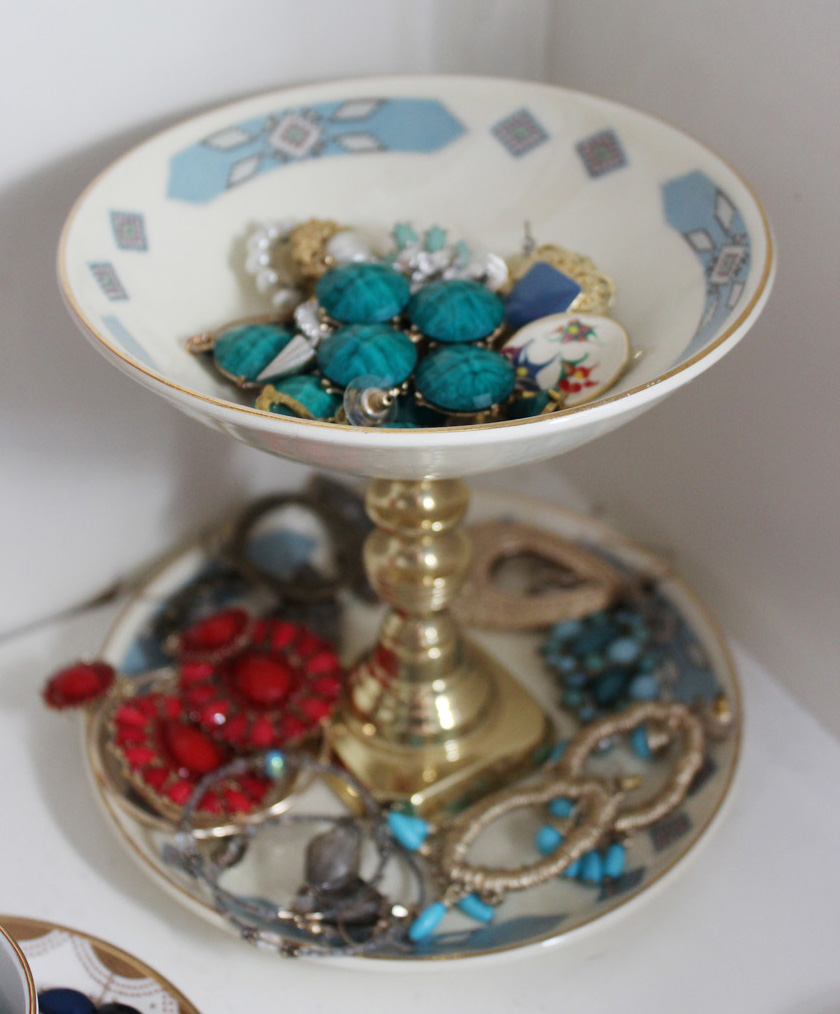 A teacup and saucer can make a great spot to hold rings. Keep your most-worn rings on the saucer and stash the rest inside the cup until you're ready to wear them.
For a whimsical touch, use a bookend or figurine to hold bracelets.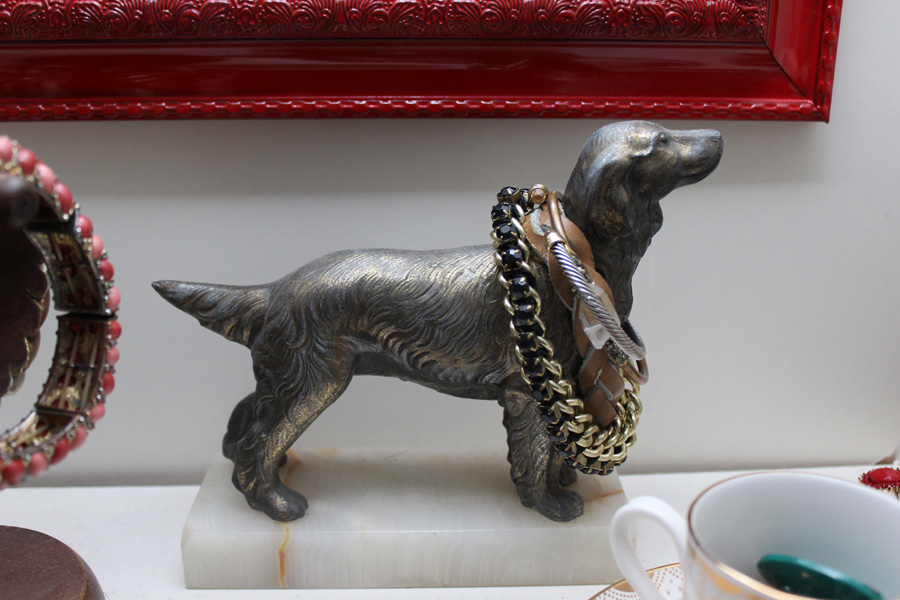 Mug-drying racks picked up from thrift stores also make great bracelet storage.
3. Use stylish storage containers
For belts and scarves, place baskets on a shelf designated for each item. Instead of tossing purses in haphazardly, choose a wire basket to store them. Your options will be visible and organized.
4. Optimize wall space with hooks
Small stretches of wall can't house shelves, but hooks make use of the space. Organize your necklaces or belts here so they're ready to grab.
5. Don't forget to decorate
Small touches of style go a long way. Bring in a foot stool to reach high shelves, and not only can you make use of every inch you have, but you'll also have a convenient spot to perch while you put on shoes. A throw a pillow or two, along with a cozy rug, are the finishing touches.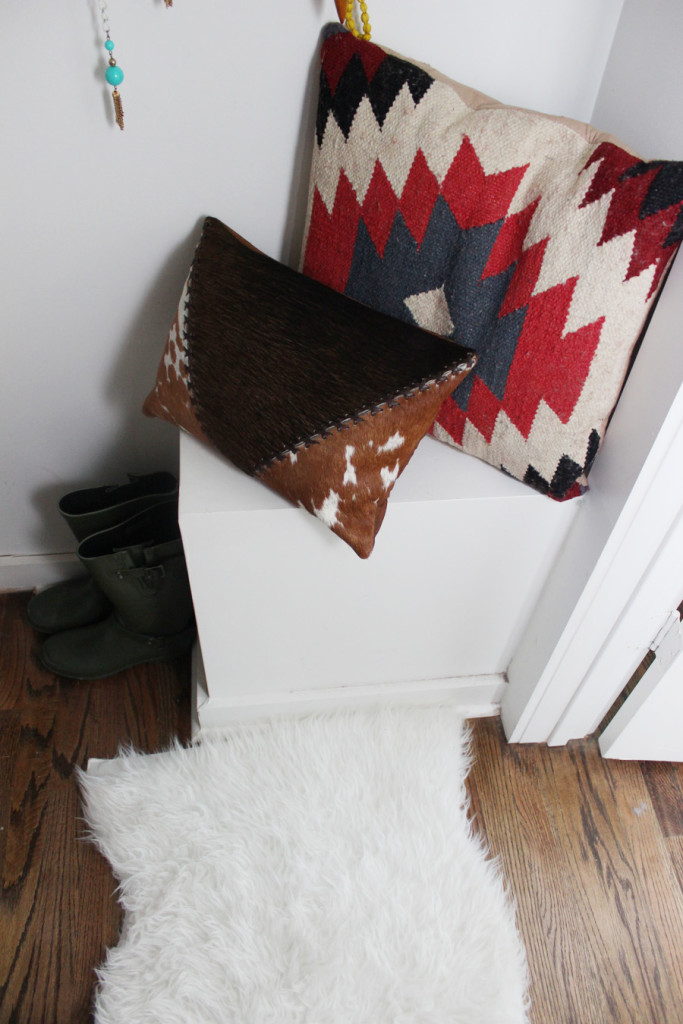 Look at your closet differently. Instead of seeing a boring space packed with clothes and accessories, re-imagine it as a beautiful dressing room where your favorite pieces are on display. You'll love getting ready, and may prefer to sit and admire your baubles rather than head out on the town.
Photos by The White Buffalo Styling Company
Related:
Powered by WPeMatico