Tour a Designer's Brooklyn Live/Work Space
Interior designer and maker Michala Monroe's Brooklyn loft is a welcoming blend of eclectic and personal. Mixing organic textures like marble and wood with starkly modern vintage pieces in acrylic and glass make for a thoroughly chic space.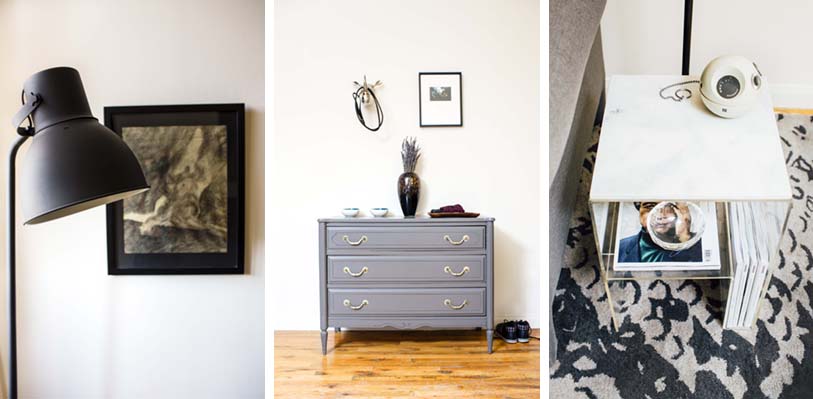 Black metal standing lamp from IKEA; salvaged and repainted dresser with original hardware; vintage acrylic tables topped with marble tiles from Home Depot
Excitingly neutral, the front room of the Clinton Hill home Michala shares with partner Jason Barnes boasts a refurbished vintage couch, delightful heirloom chairs that harken to the '60s, and the couple's bikes, which pull double duty as storage and sculpture. The loft plays host to an inspired home office, organized craft table, and pair of four-legged interns — cat Gray Gray and dog Einstein.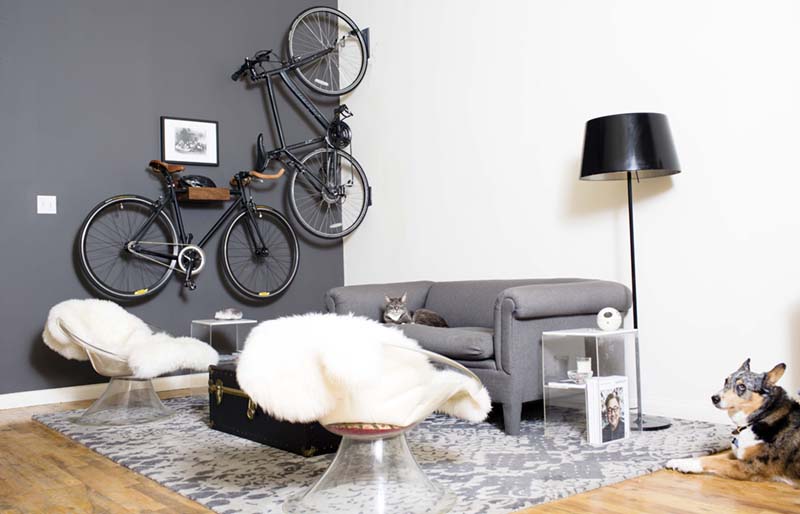 House pets Gray Gray and Einstein lounge in the front room, which blends a vintage couch and acrylic pieces with an abstract snake pattern rug.
In a candid Q&A, Michala shares where many of the items were sourced and how they fit into her home aesthetic, and reveals her favorite pieces among the enviable wall-mounted collections, classic heirlooms and striking street finds.
Do you have any standout favorites in the front room?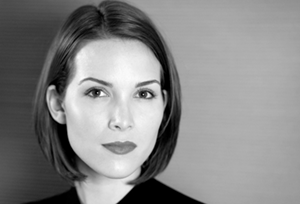 Michala Monroe; photo by Elizabeth Andrews
The sofa was a real testament of love. It was a broken mess stored at my mom's house in upstate New York for 12 years before I finally chose the fabric and had it repaired and reupholstered. It was an expensive fix, so I waited a long time until I had the right apartment to settle into. It was given to me by my first boss at the New York Designer Fabric Outlet upstate.
The rug from Safavieh is one of the first things that Jason and I picked out together when we moved into our two-bedroom last August, so that is dear to me. It has an abstract snake pattern that reminds Jason of his childhood in California.
Love the vintage plastic chairs. What's their story?
They were my great-aunts' and uncle's. They were eccentrics that lived in New Jersey together — three of them, forever single, spending their lives traveling and enjoying the things that made them happy.
They had a large and interesting furniture collection that included '60s mod-type pieces, as well as warm wood mid-century pieces. Since they passed, in my home I have a tall dresser/secretary, the acrylic living room chairs, and the coffee and side tables in my office — all from their home. Each piece reminds me to do what makes me happy, and surround myself with the people and things that I love.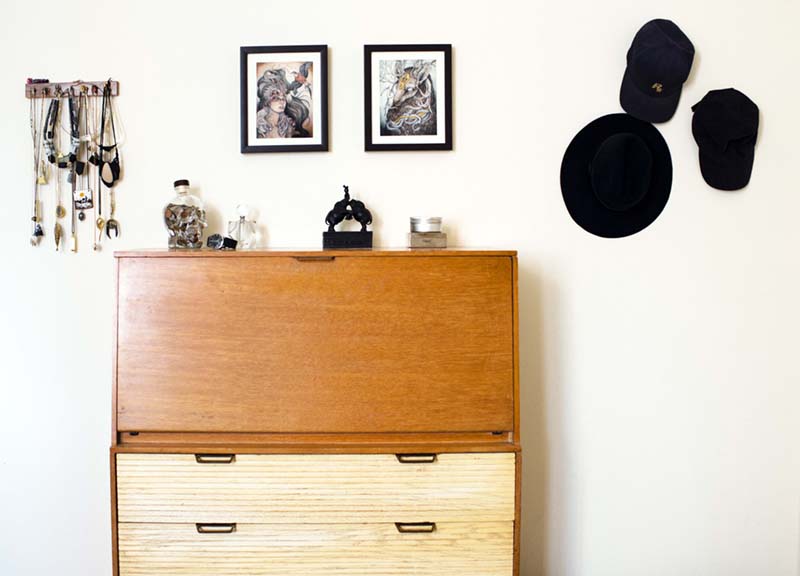 A vintage secretary inherited from Michala's family provides storage in the bedroom.
The apartment features several standout mid-century inspirations. Is there a piece you recommend starting with when acquiring furniture in this style?
This is a tough one. Mid-century is my favorite period/style. My preference is vintage, of course, so my desk (a dining table) is actually from an auction upstate, and belongs to my brother. He has his own large collection and hasn't needed this table in years, so it's on long-term loan. The tall storage unit with the project bins on it behind my desk is vintage as well.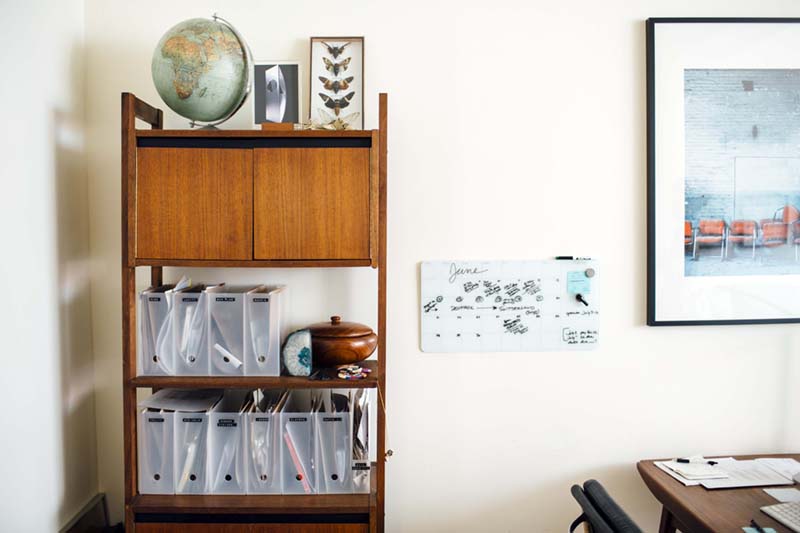 A tall mid-century storage unit graces the office.
A lot of companies are doing a pretty good job with contemporary remakes, so our bed frame is from WestElm, and our bar is from Crate and Barrel.
Who is that regal lady in the painting above the bed?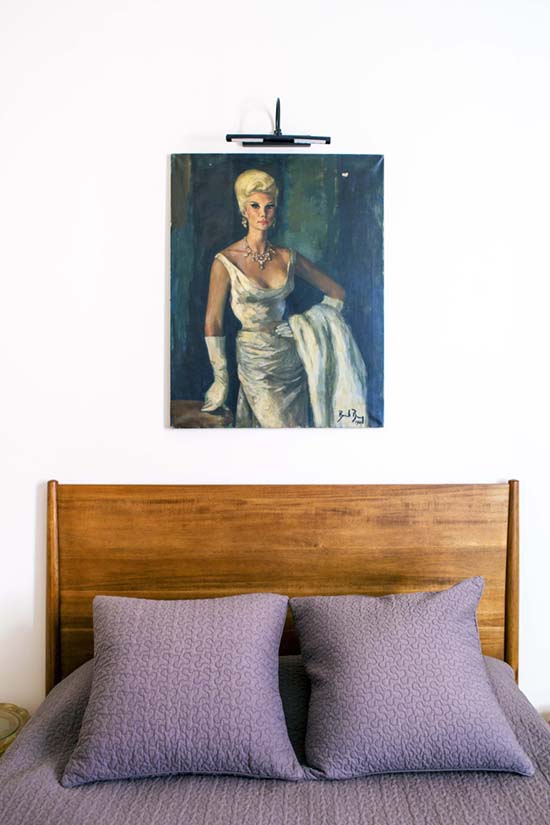 This elegant portrait was a lucky curbside find.
I wish I knew. She looks like Zsa Zsa Gabor to me, which I love, because I grew up watching Green Acres. I found the painting leaning against a huge construction dumpster on the Upper East Side six years ago. I asked the workers if I could have it, and they said yes, it was trash, and they just didn't have the heart to throw it away.
The jewelry storage in the bedroom is awesome. Where did you find it?
Whimsical wall-mounted jewelry storage saves space in the bedroom.
My good friend Steph Mantis is an industrial designer, and the "pack rack" is one of her products. You can purchase it through [online retailer] Kikkerland. I have the "heads" version, but I need to get the matching "tails" version — as you can see, my necklace collection is a little full.
Your personal collections of beautifully mounted shells and jagged quartz populate your office and lounge areas. Tell us about starting and maintaining collections like these.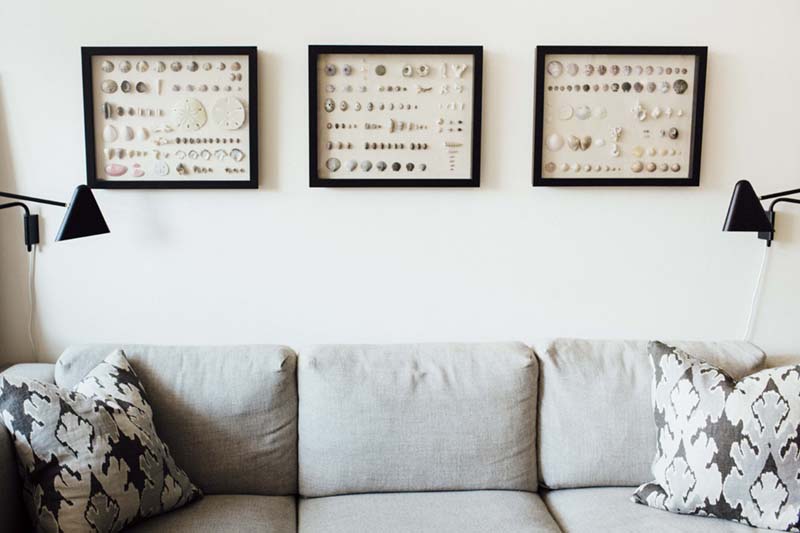 Shadowboxes filled with shells are a stylish way to display personal mementos.
Jason and I are huge nerds. We love animals and all things that represent the beauty and design of nature. During our travels we collect shells, and sometimes skulls and bones, and once we have enough, I go through them to curate the best ones and mount them into these shell boxes. It's a really fun craft activity. It's the kind of thing that I do while Jason works on his painting.
Similarly nerdy, I love gems, geodes and minerals. This sometimes manifests itself in jewelry design, and sometimes something far more primitive and hilarious. Last Christmas, Jason bought me a collection of rocks that, when smashed open with a hammer, produced the dusty quartz pieces on our bar. He is the best gift giver.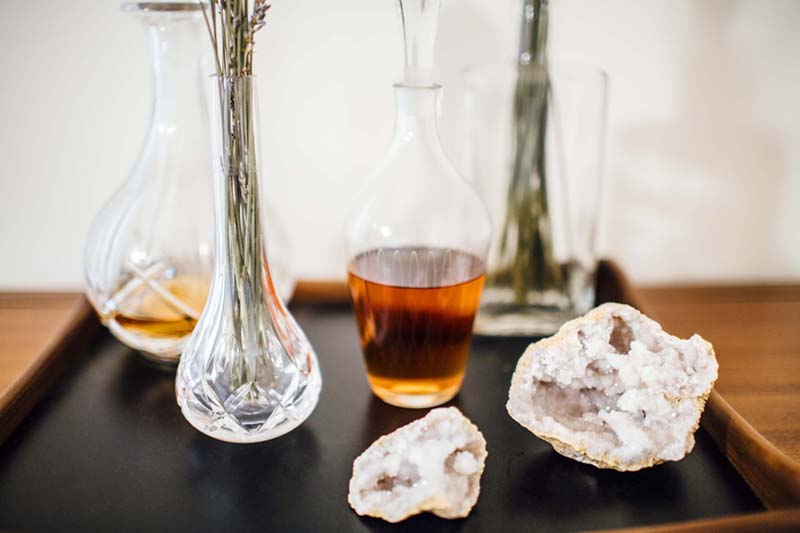 Graceful crystal decanters mingle with rough quartz pieces on the bar.
Balancing a home office and an area for your passion projects while creating a relaxing space for you and partner is a tall order. What tips do you have for renters who are trying to strike the same balance you've curated at home?
Home plus office is always a tough one. I think the key is a closed door. When I first started out, I didn't have and couldn't afford a second room for my office, and working in my bedroom or living room was tough. Work/life separation is a lot easier when you can work, say, 10 a.m. to 6 p.m., then close the door and live your life.
The space to relax is a must. I spend most of the day here when I'm not on job sites. If I didn't love the space or it wasn't comfortable, that would be very difficult to do.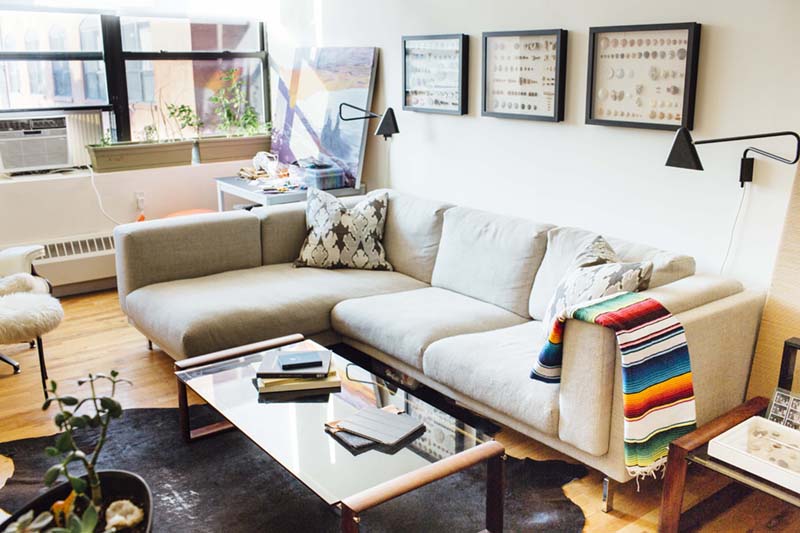 The comfortable lounge offers space to unwind, plus a well-lit spot to work on art projects by the window.
A comfortable home was a no-brainer to us. We both grew up in very casual environments with pets, so nothing can be too precious. We have a pretty big dog and a pretty big cat, so being able to relax knowing that they can't really hurt anything is a good place to start.
Making space for passion projects (such as making art) was natural. I grew up always having a little arts and crafts space, and I still love creating with my hands. Sometimes I sell my projects on Etsy. Creativity manifests in different ways, so sometimes if I am feeling uninspired by work, I'll play around for a while — maybe making something cool, and maybe not. By the time I get back to work, I'm feeling inspired again.
For our home, we planned out the space before our move, because that's how I roll — I am an interior designer, after all. However, I think you have to understand that not everything is planned. Sometimes your home evolves with you over time and becomes what you need it to become. You can't force it.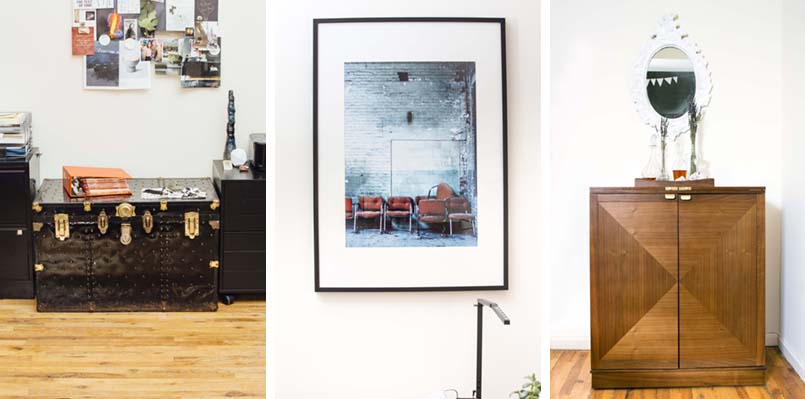 Vintage trunk; photo by Sean Sheffer; bar from Crate and Barrel
This comes up with clients occasionally, especially when I'm curating art. I encourage leaving a few blank wall spaces open for the pieces you might collect on your travels. Our home is not perfect, and there is a lot of wall space just begging for art. We'll get there.
Photographed by Erin Albrecht on location.
Related:
Powered by WPeMatico